Interested in how fencing can help with college placements?
Learn more about how Manhattan Fencing Center can help with getting into the perfect school.
Age to Start Fencing
Children can begin fencing as early as 4 years old. At this young age, fencing class consists of basic footwork and blade work, exercises to improve hand-eye coordination, games to foster coordination skills, all with our special plastic equipment sets which are much lighter and safer. Once children turn 7, they will be using the metal equipment you see in competitions.  All classes conclude with supervised fencing bouts. Children love the opportunity to fence each other and use the skills they learned in class.
The youth program is designed to provide an introduction to one of the most fascinating, exciting, and safest sports. Fencing develops:
Discipline
Balance
Coordination
Quick reflexes
Mental acuity
Good sportsmanship
Benefits of Fencing
There are many benefits to participating in youth fencing:
Develop good sportsmanship
Instill self-discipline
Acquire healthy competitive spirit
Achieve healthy body
Practice strategic thinking
Opportunities to visit different countries and learn different cultures
Get accepted to top universities
These benefits from fencing help children reach their potential in many areas other than fencing. Fencing allows children to have fun while they learn these important life skills.  Click here to get information on classes and to get started now.
Parent's Role
Parents provide support and encouragement. Most importantly, they are positive role models of good sportsmanship and respect–showing respect to coaches, officials, and opponents.
Providing consistency is also very important. Get your child to the club to practice regularly. A consistent training curriculum (private instruction, group instruction, and open bouting) is necessary to realize the benefits of fencing. Use school holidays to maximize training opportunities at camps and clinics.
Keep in contact with the coaches to assess your child's progress and to determine readiness for competitions then start fencing at local competitions. At competitions don't focus on wins and losses; rather, praise good technique, strategy, and good sportsmanship. Winning will follow naturally. Competitions are great places to meet other fencers and parents. Enjoy the full experience of competitions by taking advantage of all the opportunities for personal and athletic growth.
Are you interested in what equipment needs your fencer will have?
The fencer should be adequately protected and the uniform should allow freedom of movement to properly perform the necessary skills.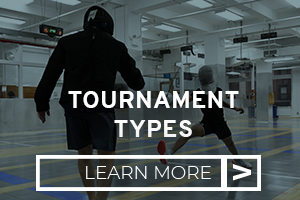 Tournaments in the USA fall in the categories of local, regional, and national. Local competitions are sponsored by the clubs themselves or the governing Division.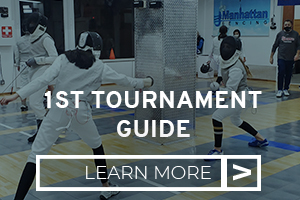 Some people are mentally ready for competition much sooner than others, so, if this guide is for your child, make sure that it's also something they want to do.